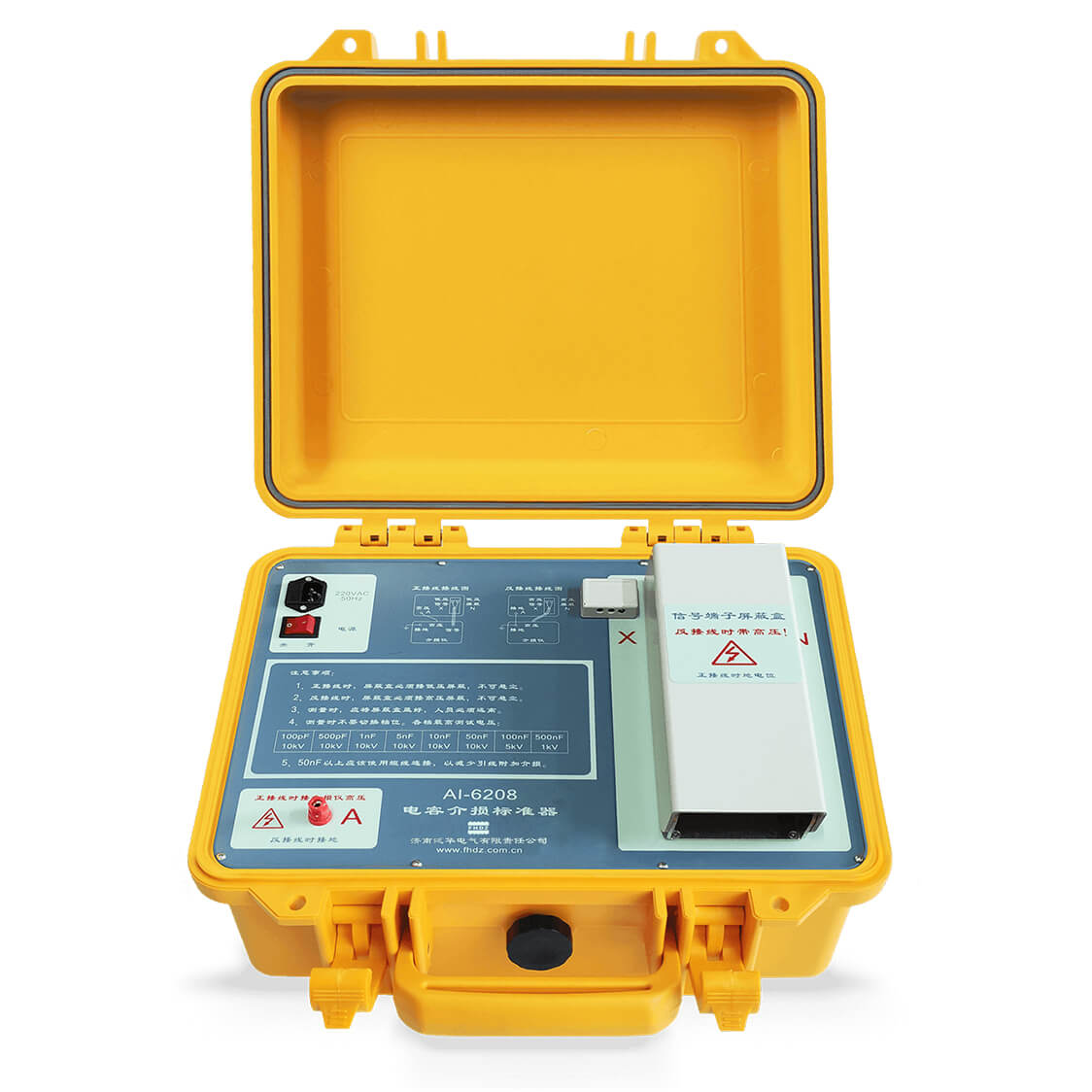 AI-6208 Capacitive dielectric standard
▪ Support Positive / Negative Wiring Measurement
▪ High Precision
▪ Stable
▪ Easy to Carry
▪ Wide Practicability
Tel:
0531-88870011
Product Introduction
Ai-6208 capacitor dielectric loss standard, with built-in high-precision 100pF standard capacitor, high-precision current amplifier to simulate large capacitance, and built-in real large-capacitance load. An ai-6208 capacitor dielectric standard appliance has the following functions:
(1)Comprehensive coverage of 100pF ~ 500nF capacitance range, high precision and stability of capacitance and dielectric loss.
(2)A corresponding capacitive load is built in to truly evaluate the load capacity of the instrument under test.
(3)The processing frequency interference current can be applied to evaluate the anti-interference ability of the tested instrument.
(4)The test voltage and frequency can be detected, and the voltage error of the tested instrument can be examined.
(5)Remote control, safe and convenient.
Technical Parameter
Dielectric loss model
RC series
Capacitance range
100pF / 500pF / 1nF / 5nF / 10nF / 50nF / 100nF / 500nF
Capacitance accuracy
+/- ( 0.5% × readings )
Dielectric factor range
100pF:0 / 0.02% / 0.05% / 0.1% / 0.2% / 0.5% / 1% / 2% / 5% / 10%
500pF ~ 500nF: 0.1% / 0.2% / 0.5% / 1% / 2% / 5% / 10%
Precision of dielectric loss factor
+/- ( 0.5% × readings + 0.01%)
Load capacitance range
1nF ~ 500nF
Load capacitance accuracy
10%
Maximum working voltage
100pF ~ 50nF:10kV;100nF:5kV;500nF:1kV
Frequency range
45 ~ 55Hz
Interference current range
Max 1/5/10/50/100/200/200/200mA
Interference current accuracy
10% × readings
Measured high pressure range
0 ~ 12000V
Measured high voltage accuracy
+/-(1% × readings + 1V),fundamental wave
Measured frequency range
45 ~ 55Hz
Accuracy of measured frequency
+/-0.01Hz
Supply voltage
AC220V+/-10%
Supply frequency
50+/-1Hz
Operating environment
temperature: 20 ~ 30°C and humidity < 80%
Storage environment
temperature: 0 ~ 40°C and humidity < 80%
The host volume
492mm( length ) × 395mm (width ) × 216mm( height )
The host weight
16.8kg
Remote control volume
158mm( length ) × 90mm( width ) × 40mm( height )
Weight of remote control
450g