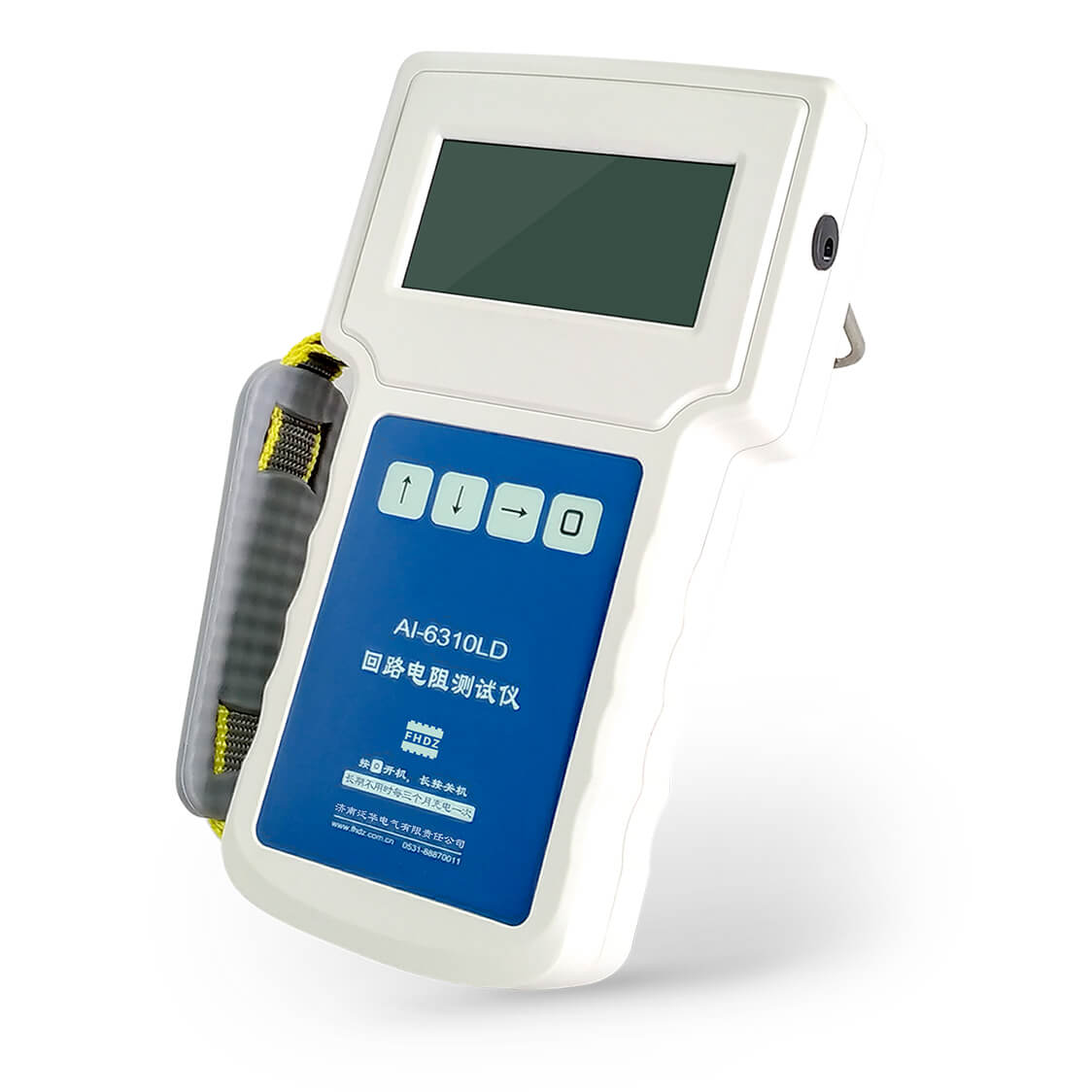 AI-6310LD Loop Resistance Tester
▪ Meet the Standard
▪ Battery powered
▪ Portable
▪ Two terminal grounding
Tel:
0531-88870011
Product Introduction
AI-6310LD Loop Resistance Tester, used for measuring contact resistance and other micro ohmic resistance of switch contacts. The instrument is powered by lithium battery, and the test current reaches 100A, which can be accurately measured under strong interference. AI-6301LD is a hand-held instrument with small size and light weight, which is very suitable for field application.
Product Features
▪ According to the requirements of DL/T 845.4, dc voltage drop method and 100A current are adopted to measure the loop resistance.
▪ Small in size and light in weight, it can be carried by hand, carried by hand or hung on the guardrail with hanging rope, which is very suitable for field use.
▪ With the latest dc conversion technology, the test current reaches 100A.
▪ Kelvin cable can use quick self-locking plug, easy to disassemble.
▪ The instrument is a handheld and lithium battery power supply loop resistance tester, which has been granted the national utility model patent.
▪ Support the use of dual grounding method for testing to ensure the safety of the testing process.
▪ Large screen LCD, menu operation, direct reading results.
▪ This tester can store 100 sets of measurement date.
▪ Built-in Bluetooth interface, which connects to the upload data.
▪ Using an anti-work frequency jamming technique, it can be accurately measured in a strong interference environment.
▪ Full digital measurement technology is adopted to ensure accurate and stable data.
▪ The built-in lithium battery is powered by electricity and can work without connecting to ac power, which is safe and reliable, and reduces the field test workload.
Technical Parameter
| | |
| --- | --- |
| Measuring Range | 0~2000μΩ |
| Resolution | 0.1μΩ |
| Measuring accuracy | ± ( reading number×1%+1μΩ ) |
| Power supply | Constant flow pressure limits,approximately 1.5V |
| Current | DC,50/100A ( optional ) |
| Accuracy of test current | ±5% |
| Test time | Fast,10~60 seconds ( optional ) |
| Total Measurements | >500 times ( full charged,fast measurement mode ) |
| Cable | Resistance<10mΩ |
| Charging | Input 100V~240VAC, 50Hz/60Hz, output 12.6V/3A |
| Charging time | Approximately 4 hours |
| Data | Can store 100 sets of measurement data |
| Environment | Temperature 10 ~ 50℃, Humidity ≤90% |
| Computer Interface | Bluetooth interface ( optional ) |
| Weight | Approximately 1.2kg ( cable not included ) |
| Volume | 239mm length × 134mm width × 45mm height |